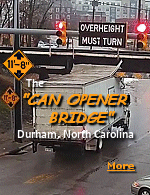 .
The graphic to the left links to an article about the most famous "can opener bridge" in America. Located in Durham, North Carolina, at just 11 feet eight inches, it has ripped open hundreds of trucks (and a few RV's) when the driver ignored the flashing lights and signs. Finally, in 2019, the bridge was raised 8 inches. Now at 12 feet 4 inches, it is an improvement, but still a hazard to many trucks. The city says they cannot raise the bridge any higher, nor can they lower the road, as a main sewer line is down below.
.
Read all about it
here
, and
go to a favorite You Tube channel
where hundreds of videos of trucks and RV's being destroyed by this devil bridge are posted, like this poor guy getting his air conditioners sliced right off his travel trailer:
.
.
Driving my motorhome through Connecticut last month, I took a side trip through a little town near Greenwich and wound up in a situation with an 11' 2" bridge ahead of me, no good way to back up, (towing a car), and with traffic behind me. My RV specific GPS didn't warn me about this bridge until I was darn-near under it.
I knew, or thought I knew, my rig was exactly 11 feet tall to the top of the roof air conditioners, having measured it as best I could a couple of times, but, who did a better job of it, me or the guy measuring the bridge, and did they re-measure after the last time the road got a fresh coat of blacktop?
I slowed to nothing and eased under, figuring if I bumped that first air conditioner I'd be outside bleeding air out of six tires.
I cleared, made it through with the maybe 2 inch margin, saying a thank you prayer to the tape measure God, and made a mental note to never visit this burg again.