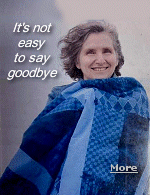 .

The link to the left goes to one of many articles I've read about coping with (there is no "getting over") the death of your spouse. Hazel and I were married for 53 years, and I miss her terribly every day. Not just once a day, but pretty-much all the time.

.


Hazel passed away surrounded by family at sunrise on Sunday, August 25, 2019 after struggling with cancer for several months.

This is Memorial Day weekend, time for barbequing, getting together with friends and family, but the coronavirus situation has changed all of that. I'm here at the family cabin in Minnesota, and normally I'd be expecting family members to start coming in to stay for the weekend, go out on the lake and roar around on the wave runner, with lots of good food and companionship. Not this year, I'll be here alone, although my daughter Annie said she would come to see me. Somehow those six foot apart hugs aren't the same thing.

I've been moping around, planning a trip to the cemetery down in the Twin Cities where Hazel is buried. The tombstone has been on order for a while, and my son John told me the other day the cemetery said it would be in place for Memorial Day. I've been on the road in the motorhome with Lily the Pomeranian for several months, (what else could I do?), and have a lot to discuss with her.

The other night, Lily woke me up about 3 AM to get out, and I was up for the rest of the night. I like to check the videos on YouTube when I can't sleep, and happened on a music video by Kenny Rogers, a song written by Lionel Richie titled "Goodbye".

The song was released just once, on a Time-Life offering in 2009 titled "Kenny Rogers: The First 50 Years" and nowhere else, and the rare CD sets now sell for $500 to $1,000. It was like this was written and recorded for Hazel.

Listen and see if you don't agree:





If I had one wish, I'd want forever back again.



.




Advertisement