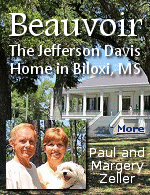 This week, I'm parked in a nice RV park right behind the Jefferson Davis home near Biloxi, Mississippi. The home is next to the Jefferson Davis Library, and the Confederate Veteran Cemetery. Last weekend, I walked over, paid my $10 senior admission fee, and spent the afternoon touring the library and the home.

.

I recognize talent and hard work when I see it, so rather than attempt to do better than Paul and Margery Zeller did in 2011, please click open and read their blog all about this place.

The damage to both buildings was severe when Hurricane Katrina struck in 2005, when many of the exhibits were lost. Since the storm a lot has been done to restore the property, but evidence of the damage remains. When I toured the home, the guide said the piano that used to be in the living room "went right out the back window, crashing irreparably in the woods. Two silver loving cup trophies in the museum are still there, but are smashed flat. And, a bust of Jefferson Davis was found weeks after the storm hundreds of feet away in the water.

Something is always learned from visiting these monuments to the past. On display is a huge "Stars and Bars" Confederate flag (see photo above) that was discovered by a friend of the library for sale on eBay. The seller was promptly contacted, and as Indiana Jones used to say "it belongs in a museum".

The interesting thing about this flag, referred to as the "stars and bars", with red and white stripes and stars in the upper-left corner, is that is too closely resembled the United States flag, resulting in confusion on the battlefield. At Manassas, Confederate troops mistook the flag at a distance and attacked other Confederate troops, with several being killed.

Because of that, a smaller (4'x4') "battle flag was adopted, and most people, including Southerners, mistakenly refer to the new flag as the "stars and bars", which it is not.

Learn more about Civil War flags by watching this 4 minute video.

A very worthwhile stop as you travel the area. Save your Confederate money, the South will rise again.


Advertisement