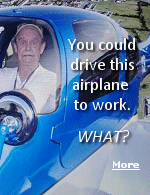 I happened to spot this Sarasota, Florida Chevrolet Tracker listed for sale on eBay, present bid $19,500. What an amazing vehicle, I sent the seller an email asking for more information and permission to post it on my aviation website.

.

An couple of hours later, he called me, and we talked for nearly an hour. Turns out, we had a lot in common in our lives, and by the time our conversation ended, he was ready to run out and buy a motorhome. He says someone posted a bid at the original $19,500 asking price this morning, but the auction has another day to go, so I still could put in a bid, but can you imagine me towing this car/plane down the road behind my motorhome? Nah .. but I did think about it, then lay down for a while until the thought passed.

When it does sell, the auction will be deleted from eBay, so I jumped in and grabbed the photos above and the description provided by the seller, as follows:

This jaw-dropping Airplane Car is the absolute ultimate attention getter and the hit at every car show...whether you are cruising down the interstate or sitting at an intersection waiting for the light to turn green, or even pulling into a gas station for refueling. Everywhere you go, you are the center of attention and a one vehicle car show! Everybody wants a picture and everybody wants to talk to you about it.

This vehicle started its life as a 1999 Chevy Tracker. The previous owner and his team of fabricators took the tracker and married it to a 2003 Cirrus Airplane that had crash-landed a few years before. It was in an aviation salvage yard in Atlanta Georgia. A few years after the airplane car was completed, the owner put it on eBay for sale and that's where I found it. I've owned this airplane car for a year-and-a-half now. My new job has me working evenings and weekends so it's nearly impossible to attend the car shows anymore... that's why I am selling it. Previously this vehicle was titled as a 1999 Chevy tracker in the state of Georgia but after bringing it to Florida the Department of Motor Vehicles change the title name to a 2018 ASPT... which is a vehicle that the Florida DMV says is "Assembled From Parts". It was inspected to ensure it was street legal. It is titled and registered in the state of Florida and has a clear, clean Florida title.

The chassis, suspension and drive train is all stock, and from the cockpit to the tail is an all stock 2003 Cirrus airplane. It has an in-dash GPS system with backup camera. A luggage compartment door is located on the left side of the fuselage.

This Airplane Car has factory air conditioning, and a switch operated red LED strobe blinking light under the fuselage, which serves as a taxiing light as you are coming or leaving the car shows.

The propeller is an actual airplane prop and spins on a roller bearing. It spins with the wind. The faster you go...the faster it spins!

From the tip of the propeller to the tail is 28 feet long. The tail is just under 8 feet tall. Overall width is 7' 2".

More about the 2010 crash-landing of this 2003 Cirrus SR22 on a golf course here.




Advertisement