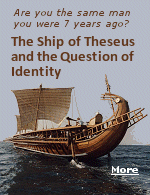 In ancient Greece, the legendary king Theseus founded the city of Athens, sailed his warship into port, where it stayed, according to legend, for 300 years. As a tribute to Theseus and his many sea battles, the people of Athens kept the ship as a memorial.

.

The "ship of Theseus" stayed in the harbor, but as time went by, it began rotting away. To preserve it, wood was replaced, until, at some point, none of the original ship remained.

.

So, the question is, If you replace all the original parts, is it still the same ship Theseus sailed into the harbor 300 years ago?

.

Sounds like a motorhome to me, and to my son Tom, who is working on his doctorate in Philosophy. Tom tells me the story of this ship is a topic of discussion and debate in college classrooms. Learn more about that here.

My wife and I owned three motorhomes during our 10 years on the road, the current one is a 1992 Fleetwood Southwind, a top of the line 30 amp gasoline motorhome back in 1992. Over the years, especially since I bought it 3 years ago, many changes were made.

It is definitely not the same RV that came off the assembly line 27 years ago. Coming with one roof air conditioner, but wired for two, I purchased two new AC units, the energy efficient models only drawing 11 amps, which allowed me to park in a friend or family driveway and plug-in to the 15 or 20 amp socket by the garage door, run an air conditioner and not pop the circuit breaker. (Unless I forgot to turn off the AC before starting the microwave.)

The old AM/FM radio was in bad shape, replaced by a Sirius XM Satellite one. The dog likes the "easy listening" channel when she is left alone. A monitor keeping track of all the tire pressures and temperatures was added, the original toilet leaked and was replaced, the water heater failed and was replaced, and the propane furnace required an overhaul. When someone pointed out that our motorhome was "sagging on the driver's side" when I went around a corner, I discovered that our rear leaf springs were shot. $1,800 later, new ones, rated at 1,000 pounds each over those installed by the factory, took care of that problem. Good thing this thing is paid for.

A couple of years ago, I bought a new Garmin GPS that can be see in bright sunlight and you can talk to it. "Voice Command, nearest McDonalds". It even makes phone calls.

I've been carrying around a new 30 amp internal surge guard with an LED monitoring panel, to replace the old outside one that tells me nothing, for three years. It's still in the box, waiting for me to wake up one morning and see "Install the surge guard today, or else" printed on the bedroom ceiling. It would be a classic procrasto project I could do in a couple of hours, after thinking about doing it for a couple hundred hours.

The electric step is new, two 32" flat screen televisions were added, along with a satellite dish. Forgetting to crank down the television antenna and driving 250 miles with it up resulted in a new antenna, a 'dust devil' in Kansas tore-off our awning, so I have a new one of those, power supplies, batteries, and even one of the headlight turn signal assemblies, thanks to a really dumb RV park trainee who made me side-swipe a post while he was directing me into a tight parking place, was replaced with one from a junk yard for $20 bucks. Fortunately, no body damage, but it broke the turn signal lens assembly. Searching for a replacement, I learned that Fleetwood used 1991 Toyota Corolla headlight assemblies on their 1992 Southwind motorhomes, and there are junkyards full of them. How about that?

The list goes on and on, the $6,500 transmission a couple of years ago, tires, electric heat in the basement holding tank area, so that I could take a shower in January last year when it was -30°F outside, 70°F inside. Adding everything up, we have about $25,000 invested, to replace what we have new would be around $100,000. Just the sales tax on that paid for our new transmission.

As my son Tom said "Dad, if you keep that thing long enough, it will be brand-new."

So, a few months ago, I had Fast-Sign in St. Cloud, Minnesota, make me a decal for the back. Being a professional procrastinator, it stayed rolled-up in the cardboard tube until yesterday, when I happened to mention it to my friend Steve Weaver, here for a visit. "Well, let's get that sucker installed", he said.

See the photos above. Coming soon, new flooring. Maybe, that's a definite maybe.


Advertisement